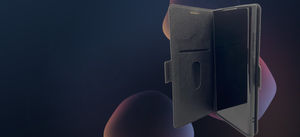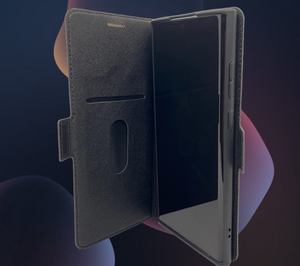 RF Safe Cell Phone Radiation Protection
RF Safe® Mobile QuantaCase®
The QuantaCase® incorporates world-renown RF Safe® Radiation Shielding Technology, which has been lab-tested to show electromagnetic radiation, including 5G frequencies, is reflected via conductive shielding fabrics in the front cover.  In addition, the QuantaCase has an exposed RF Safe® notch where an inexpensive Ohm meter can be used to test the conductivity of the microwave barrier between your body and device!  Unlike most products that require expensive microwave meters to verify what is inside, the highly conductive RF Safe® shielding fabric inside the QuantaCase® is accessible for easy conductivity testing.
ANTI-RADIATION AND SINGLE SLOT RFID BLOCKING
So much more than just a phone case.  The RF Safe® Mobile QuantaCase® contains lab-tested microwave RF shielding technology that can reflect a wide range of radio frequencies from your Mobile.  This includes 5G, Wi-Fi, and cellular, all high-frequency microwave cell phone radiation bands.  It also contains a built-in RFID-blocking wallet and turns into a phone viewing stand, all in one lightweight and convenient case.
Some studies have even shown that RF radiation could be linked to different types of cancer, including brain tumours and breast cancer.
Get Protected Now!
Features of QuantaCase®
Anti-Radiation
RF Safe® microwave radiation shielding material is integrated into the front flap of the outer case to deflect radiation (5G, Wi-Fi, EMF, etc.) away from your body while still allowing the signal to enter and exit the back of the phone unimpeded.
RFID Blocking Wallet
The built-in card slot provides RFID theft protection for a credit card, room key, or any RFID remote access card while the phone case is closed.
Protective Cases
QuantaCase® protects from cracks, dings, and scratches to keep your phone looking and performing like new.
Adjustable Angle Stand
Easily convert your QuantaCase® into a stand for watching videos.